On a warm and sunny day, February 16, there was a LTC for the national 5th and 7th Blessed Family department in the Wolmyeongdong Cultural Center.
The education of this day was the first education that was given directly from the Teacher since the time period of the independence of the Complete Testament began. Therefore, the expectation and excitement seemed to differ from other times.

Pastor Jung Bum-seok, the guest speaker, prepared a video of the Teacher and WMD the pastor by himself, showed it to us, and had us captivated in reminiscence. After that, he delivered the Word from the Teacher with the voice of deep shimjeong.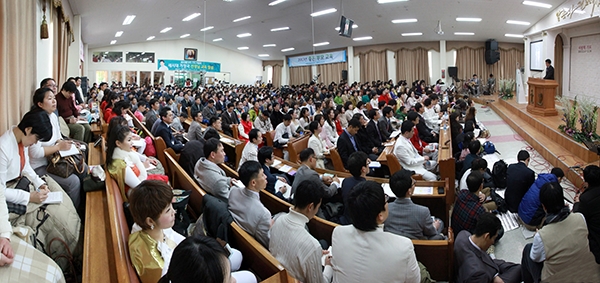 Seeing the Blessed Family members who are busy living their lives, the Teacher encouraged them saying, "We cannot stop what we have been doing until now just because we are tired, can we? Even though it was hard, we have followed to the end and we have come to know clearly the Advent that was awaited for two thousand years because the Holy Son revealed the original entity of the Holy Son and His bunche without being able to hide it any longer. Know that the benefits of the time period are the greatest and go on [the path] knowing the time period clearly."

Also, he showed us realistically how greatly different a parable is from reality and enlightened us about the time period in which the seal is broken. Finally, he said that all of us can run diligently if we hear this one-line, and concluded with, "Now, the Rapture has begun."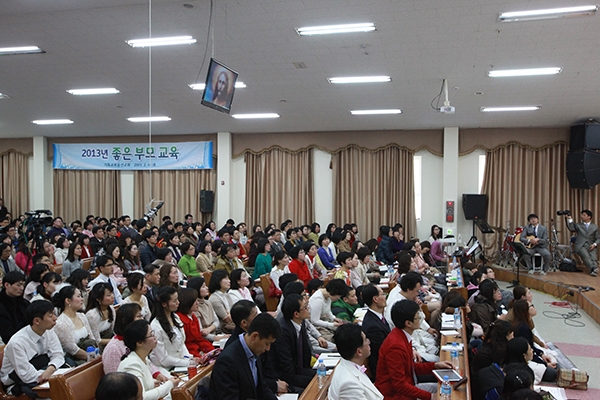 Following that, Pastor Jung Bum-seok once again reminded us of the meaning and value of the blessing of wedding that the Blessed Family department received. He told us to live a life like the Teacher of giving love first. He also requested for us to raise our children according to Heaven's design and raise them to be people who would sacrifice themselves for others. Then they would shine wherever they went and history would be born when we testified about the time period and the Lord just as history happened when Peter testified about the Lord.

The head leader of the 5th Blessed Family department, Pastor Lee Jin-hwa, said we were able to receive the Word during difficult situations like a miracle. She encouraged by saying, the Teacher educating us in this way directly is his love and expectation for us so we should run at least a bit more than anyone else for the 70,000 ministry this year.

We had a graceful time in which we received even more strength because we started the new year with the Lord. We should become the Blessed Family Department who bears fruits of lives and love by taking action according to the Word.