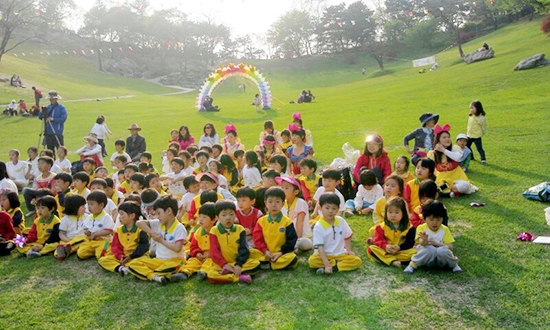 On May 4th, a Children's Day festival was held in Wolmyeongdong (WMD) under the Lord and SSN's guidance. The kindergarteners and elementary students in the Milky Way departments of the Dae
Jeo
n and Geum-San region participated in this event.
The initial plan, which was to have a national event, was canceled because of the construction of rock landscaping in the Natural Temple and of the Lord's house of love. However, the Teacher gave permission to nearby regions to come to WMD and have a small event since the condition was not met for many people to come.

First, the Milky Way department had a special Children's Day service in the Cultural Center and gave thanksgiving and glory to the Trinity after listening to the Lord's Word. Through the message, the Milky Way head leader, Jung Yu-ri, encouraged Milky Ways to fix what must be fixed. She also delivered a message encouraging the Milky Ways to play to their heart's content as they feel the Lord within the boundaries of Providence while growing with their own uniqueness.

Moreover, she requested parents and teachers to not raise their children in a pen with only one method but to pasture them so that their children can feel the inspiration, love and working of the Lord directly by themselves.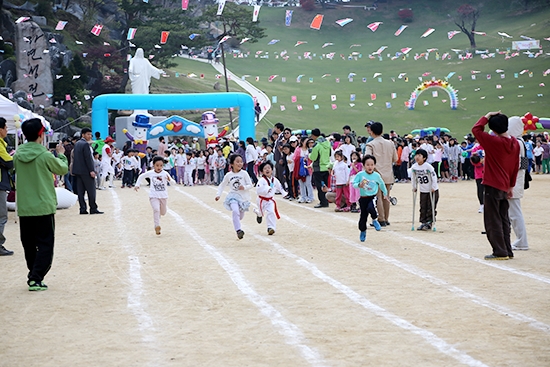 ▲ Milky Way children running in a race

On this day, which was accompanied with clear and fresh weather and an abundance of flowers in the Natural Temple, the fantastic festival filled with joy and happiness continued as if the green pastures of Heaven were directly laid on the earth.

The Kindergarten department children's smiles never left them as they rolled around in the inflatable playground, spun pinwheels, and ran in the lawn. The Elementary School department children enjoyed fun recreation as they played nine different games, some being slap-match, hula hoop, running, writing love letters to the Lord, throwing balls into a basket, etc.

Additionally, the Teacher prepared abundant food through the Blessed Family department. So both the adults and the children had such a happy day that they didn't even notice the time passing by as they ate delicious snacks time to time.

Young lambs of Heaven playing and running to their heart's content in the green pastures of the Natural Temple - we must raise them well by pasturing them with love and freedom not with coercion and feistiness according to the Lord's Word as beautiful brides of the Lord. I hope that the Milky Ways of Providence will never forget the love of the Lord, who has given them the gift of the Word and prayer and even a gift of allowance.