2014 Passing ceremony of love, meet the oldest member who passed this year.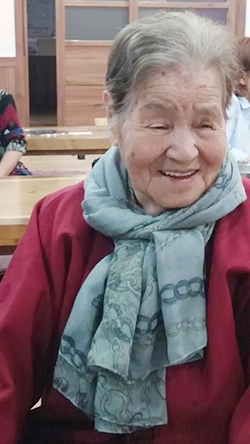 The passing ceremony of love in 2014 was broadcasted throughout Korea on the 8th of March. The Mannam & Daewha reporter visited the Lord's Church and met Deaconess Bae Wol-sun (Deaconess for 21 years in a Christian church, 94 years old), the oldest member among those who passed this time.


50 years ago her child was sick so she prayed to God. She told God that she would attend church, so she pleaded God to heal her child. This was how she met Jesus of Nazareth. She went to a church near her home and prayed to God [for her child's healing]. A short while after offering her prayers, her child was healed in an almost unbelievable way, so she experienced an amazing miracle. Since then she was very faithful.

However, a short time later, she thought that her child was healed possibly by chance. She neglected to attend church. About the time she almost lost her faith, her child became sick again with the same disease.

From that time, Deaconess Bae offered repentance prayer saying, "If you heal my child again, I won't have any second thought but will serve you diligently." After offering the prayer, her child was again miraculously healed of the disease. After this, she experienced amazing love of the Lord and served the Lord actively and deeply.

A few years ago, she had another amazing experience. In her dream, she died and went to Heaven. [The Lord] said, "It is not your time to come to Heaven yet." The reason was that her house in Heaven was not ready. [The Lord] took her to where her future house was being built, and it was monumental and magnificent. As they were building an humongous house, there were dozens of workers very busily working.

A few years after having that dream, she came to Providence with her grandson in the year of Independence, attended Sunday services, listened to the word of the time period from time to time, and finally, had her passing ceremony this year. Wasn't that the dream showing her coming to the Complete Testament? What else could that be!

Receiving a lot of grace from today's message, Deaconess Bae said, "Who would have known that I would receive this great blessing at this old age?" So great is the love and grace of the Holy Son Lord to call her after waiting for 94 years.