Introduced in 'The Great Dictionary of Korean Poems', page 2717

'Poet Jung Myeong Seok is someone who has opened his eyes to the mysterious and profound wonders of the world created by the Creator. He discovered the law of creation, which states that nature is like human beings, and human beings are like God. In his poems, he ties together and connects a variety of difficult concepts [within this theme]. Then he gains the power to embrace both heaven and earth. He pursues an ideal world and at the same time, reveals [in his poem] his strong will to maintain his optimism and endure his difficult life.

Along with 3500 others, President Jung Myeong-seok of Christian Gospel Mission a believer of God who lives only for the sake of saving lives was recently recorded in a larger, revised edition of 'The Great Dictionary in Korean Poems,' which represents 100 years of the history of poetry in Korea (1908 ~ 2010).

The book made the evaluation that Poet Jung views the essence of nature from the perspective of the Creator's law of creation. He was also described as someone who binds the love of Heaven and Earth through his world of poetry.

Especially through the following appraisal [of Jung], it was acknowledged that he has penetrated both the world of God and the world of reality: 'His sincere world of poetry expresses a love of praising Heaven and love of embracing the broken Earth. His literature creates hope and harmony for modern people whose lives lack a balance between reality and ideals.'

Poet Jung's name was recorded on page 2717 of the Great Dictionary of Korean Poems, published last March.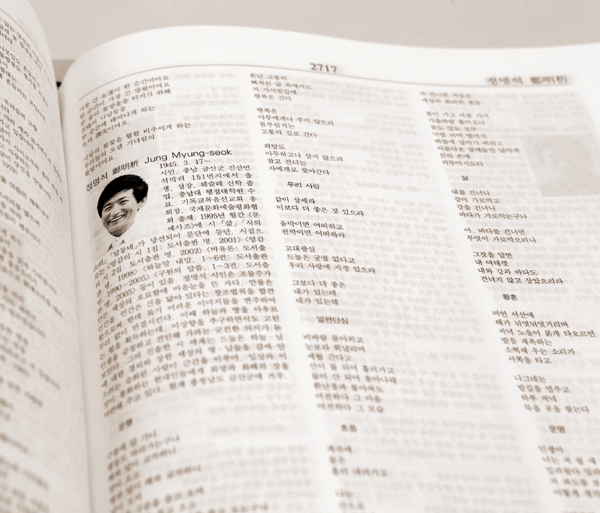 ▲ page 2717 of the Great Dictionary of Korean Poems
In this book, Jung was introduced as a poet and ten of his poems were introduced, such as 'Narrow mind,' 'Life,' 'Our love,' 'Movement of the cloud,' 'Never-changing heart,' 'Hope,' as well as others.


In his poem 'Hope', he sings of true happiness and hope that is gained only by someone who has overcome difficulties and has been trained in perseverance. He also reveals the deep truth of life and initiates deep thoughts within the reader.

Happiness goes/even in a blizzard /life winter// Happiness goes/in the thorny field/even in a bone-aching life/of hardship and difficulty//Happiness/doesn't want to give herself to anyone/she takes the painful road/that creates struggle//Hope too/doesn't want to live with anyone/it looks for and goes to one/who endures and perseveres//

Poet Jung Myeong-seok's book, 'Poems of inspiration', became a best seller in 1989. He officially became a poet through 'the Munyesajo Writers Association' in 1995, and had the spotlight shone on him in the world of Korean poetry and literature.

Since then, Poet Jung has never slackened in his writing of poetry he releases between three and five poems every month. He has now released around 3,000 poems. He has written around 30,000 proverbs of wisdom that he received through his life of faith and, among them, 6,000 proverbs were published in six books (Heaven's Words, My Words).

The large, revised version of 'The Great Dictionary of Korean Poems' shows 100 years of the history of Korean poetry at a glance. It includes all the poets [of the 100 years], from the early poets in the history of Korean poets (Choi Nam-seon, Lee Yuk-sa, Lee Sang-wha, Jung Ji-yong), to the most recent poets (Jung Hyun-jong, Cheon Yang-hee, Hwang Dong-gyu). [The book includes poetry from] poets who have deceased, poets who were lost due to being kidnapped to North Korea or defecting to North Korea, and poets who are still alive.




The original text: http://www.newswave.kr/sub_read.html?uid=147056