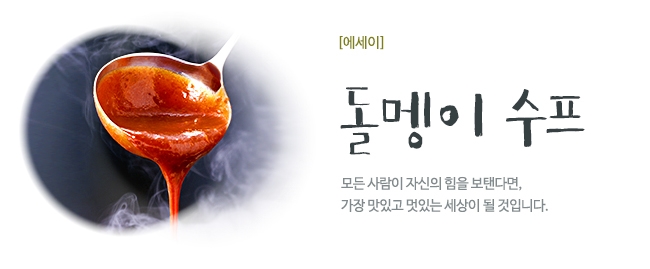 Once upon a time, there was a small yet beautiful village.
One day, a traveler knocked on a door, asking for food while walking by the village.
"I'm doing such a thing because I am really hungry, so please share some of your food."
"In my house, there are only a few carrots."
"I only have one handful of beans. Go try other houses."
"I only have ten kernels of corn left. What can you do with them?"
"Who can be satisfied eating just this one piece of meat?"
The village was worse off than the traveller had thought, and it looked very pitiful.
After some contemplation, the traveler started talking to the villagers.
"If you, the people of the village, can give me a big pot, I will make you the most delicious soup on Earth." Shortly after, a man brought out a gigantic pot.
"Here, I brought a pot. How could you possibly make the most delicious soup?"
After hearing this, the traveler spoke with a smile.
"The method is this: this stone, in the pot."
"Pardon? this stone?"
The villagers started to gather one by one after hearing that the traveler will make the most delicious soup with this stone.
The traveler threw the stone into boiling water and started to stir with a long ladle.
After some thinking, the traveler voiced out.
"Ah, it would taste better if there were a talent like a carrot."
At that moment, someone spoke up.
"Although I don't have anything else, I have a talent of a single carrot, so here it is."
After stirring the soup some more, he spoke again.
"Ah, if there were even a handful of flour, the taste would be much richer…"
"I have that. If I could help by even one handufl of flour, I will give it to you."
"If there were a talent like a piece of meat, then it would be more flavorful.."
"One piece? If this will help, here it is."
The villagers gained confidence from the traveler's words.
"I have talent of three potatoes."
"Oh I have talent that's like ten kernels of corn."
"I can't miss out. I have talent like two pieces of lettuce."
"I will bring something since if I look for it, something useful will appear ."
"I think I had talent of a pepper somewhere. I'll look for it."
The traveler shouted out with joy.
"That's good. Come on everyone, bring them all. If we put in anything that you have, it will be a very tasty stone soup."
The people ran to their houses to bring out things without exception.
The giant pot started to boil more with many kinds of ingredients, and a delicious smell emerged.
The people brought out their spoons to taste the soup. When they tasted the soup at last, they were so shocked. "Oh my. I never knew that such delicious soup could exist on Earth."
"The stone is surely the magic stone. I have never tasted such a fantastic soup."
"The traveller isn't an ordinary person. He must be a top chef."
The traveller spoke with a smile.
"I have put in another magic ingredient other than the stone."
"Another one? What is it? Please teach us!"
"The secret ingredient to this tasty soup is every small talent that each of you gave.
This soup was not made by me alone. It was not made with this stone alone.
This soup became a fantastic soup when every talent such as the carrot, the handful of meat, the few pieces of beans that came together one by one.
The world can't be a tasty and fantastic world just because there is one big pot, the best chef, or a magic stone regardless of a nation, a religion, a department, a church and a family. The world will become a beautiful world when everyone contributes in his/her own power in a small or big way.