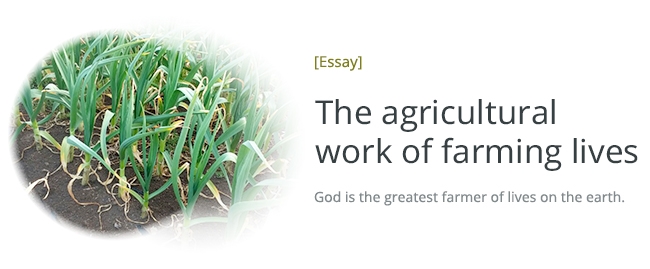 Have you walked through farmland or rice fields recently?
As March approaches, the cold winter weather gradually disappears and the fragrance of spring abundantly fills the fields.
'Samcheonpo,' the city I'm living in, is a place that is close to nature. If you want to, there are paths along the sea, rice fields, farms, and mountains that you can walk upon.
Today when I walked through a rice field to exercise in the morning, I saw a field of garlic.
The root of the garlics were so thick and full that it felt like I was looking at my chubby legs.
My friend who was walking with me said, "The time to harvest garlic has come."
"Already? But it's still blue?"
"It is time to harvest the unripe garlic that are still green. If you just leave them there, they will become overripe bulbs of garlic."
Although I have been living in the same area as my friend,she knew more about crops than me because she was born in a place that was located more in the countryside."
"Ah, I see."
As I was looking at the garlic field where garlics were fully ripe, I respected the wisdom of the farmer who had to decide whether or not to farm ripe bulbs of garlic or unripe green garlic.
At that moment, I was reminded of the greatest farmer on the Earth, God. I wondered about what kind of crop I would turn into if I were sown by God. Since God has given us various kinds of fertilizers and his dedication, we should bear the fruit of lives. If you live your life alone, you won't be able to bear a proper fruit of life. Rather, your body will suffer and ache from various types of bugs, and even if you were able to bear a fruit, it would not be of high quality. I pray that the trees of lives, fields of lives, and farms of lives that bear lots of ripe fruit will overflow abundantly on the Earth.
I returned to my house after finishing my morning walk, filling my lungs with the fresh spring morning air and thinking about God who is doing the agricultural work of farming lives.