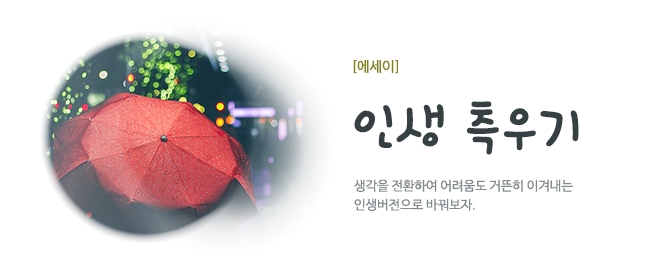 Rain Gauge of Life
By changing our way of thinking, let's change into lives that overcome difficulties in a breeze.
The weather of our life is not always bright and sunny. At times it's rainy, at times it's snowy, and at times it's even thunder and lightning.
That's why life is dynamic and can be difficult and discouraging.
However, we have to overcome such moments; then we can become stronger and gain victory.
When it's raining on us, is it by walking or running that we get the least wet? The answer is that we are hit by the same amount of rain regardless of whether we're running or walking. The only difference is that the rain strikes us diagonally when we're running, but vertically when we're walking. Thus, only the angle of the rainfall is different; the volume of rain is identical. However, when we run, we're able to arrive at our destination earlier, so the time in which we're exposed to the rain is reduced.
Therefore, when there's a rainy day in our lives, let's move even quicker instead of cringing. Rather than standing still, being absent minded and crying, let's move our bodies so that we can quickly pass through the rain.

There is an expression in the Bible: "Rain is a welcome blessing." If it rains during a drought, the rain becomes a welcome blessing, doesn't it? Likewise, the rain of life isn't merely an interference that obstructs us from reaching our final destination. When it rains, all creation in the world can also be thoroughly washed and cleansed from their filth. And a rainbow may even emerge after the rain. So, if we want a rainbow to appear in our lives, then we should occasionally receive the rain in the course of life.


It is said that 'perception and thoughts' determine decision. This means that people formulate their decisions based on their thoughts and perceptions. Therefore, by altering our way of thinking, let's become a life that overcomes difficulties in a breeze. If we can do that, the rain gauge that measures the rain of life will no longer be necessary.