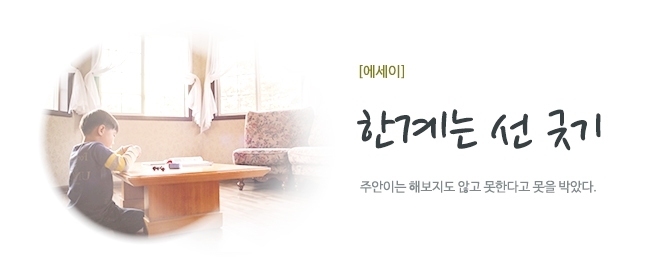 A few days ago, my son Juan and I went to a playground in his elementary school.
Around the sandbox, there were rubber tires placed upright into the ground
and it looked like a bumpy road.
"Hey Juan, do you want to play tag on those tires?
If you start off first, then I'll chase you after I count to ten. How's that sound?"
"I like playing tag but I can't."
"Huh? Why not?"
"I can't walk on those rubbery tires."
"Why can't you walk on them?"
"I can't walk on them because they're squishy."
Without even trying, Juan strongly nailed it into his head that he couldn't do it.
So I suggested him not to play tag but to first just try walking on them.
He hesitated at first, but he eventually began to take a step on them.
He slowly moved his feet side to side like a crab, and soon later, he picked up more speed.
After he realized that it wasn't as difficult as he thought,
he started to run while jumping on the tires saying,
"Catch me if you can, mom!" It was like he was flying!
In one of the stories in the Analects, Confucius' disciple, Ran Qiu, acted the same way to his teacher as my son did to me.
"Teacher, I feel great after listening to your words, but I lack strength to take action on them."
Then Confucius replied,
"A person who really lacks strength cannot perfect their way of life and will give up.
But you are already putting a limit on yourself by drawing a line,
saying that you don't have enough strength."
There is nothing he can do no matter how much he tries if he really is a person who lacks strength, but because he set his own limit before even trying, he was obviously acting like a foolish person.
The mentality that goes into building a rock landscape for the sixth time even when the rocks fall five times before…
The determination of trying ten times harder because it is something that one is not good at…
Just like this, the one who takes action until the end without drawing a line of limitation to oneself becomes the true winner.