Rumor vs Truth: Continuing the series, The truth concealed behind the 10 year sentence of Jung Myung Seok, Chairman of Christian Gospel Mission (JMS), I will begin the final portion, Part 3, with the story about Mr. K, the leader of the anti-JMS group, Exodus, who demanded 2 billion Won (approximately 2 million USD) from Chairman Jung.
Mr. K demanded from Chairman Jung a 2 million USD settlement
It is not apparent if Mr. K is really fighting for justice, since he has been leading the anti-JMS group called Exodus, and has held a press conference with the alleged victims, in addition to fighting legal battles with Christian Gospel Mission (CGM) on several occasions over a long period of time. In fact, in order for an individual who is penniless to request even one trial, it would cost a tremendous amount of money. For several trials, it would cost considerably more. However, is this truly a fight to implement justice even when he has to empty his pockets, simply because he was "inherently born with a heart of justice that cannot tolerate injustice"?
With multiple concerns about Mr. K, Pastor P met with him several times. Pastor P revealed that he had directly heard Mr. K demand a 2 billion Won (approximately 2 million USD) settlement. (Pastor P has also testified about this in court as a witness, with other evidence available: a transcript regarding Mr. K's demand for 2 billion Won. Refer to the picture below.)
Mr. K said to Pastor P, "No matter how much you try, Jung Myung Seok will not be able to enter Korea at all. There are some prosecutors who are gnashing their teeth about JMS. Among them, there are at least three high-ranking prosecutors. If you give me 2 billion Won as a settlement, I will drop the charges that I have filed with the victims." Pastor P responded that once Chairman Jung comes back to Korea, the truth would be revealed, but Mr. K replied, "He will rot in China prison forever. Even if the chairman were to come back, S Broadcasting System or reporters would not stay still," and added that we did not know how scary the power of the press and of having connections was.
Even before this, Mr. K had told Mr. N from CGM (JMS) that if they were to give him a 2 billion Won settlement, he would drop the charges, showing him the written document of dropping the charges. Also, at the meeting with Pastor P, he brought up his meeting with Mr. N and kept demanding a settlement, saying that he wouldn't drop the charges unless they give him 2 billion Won.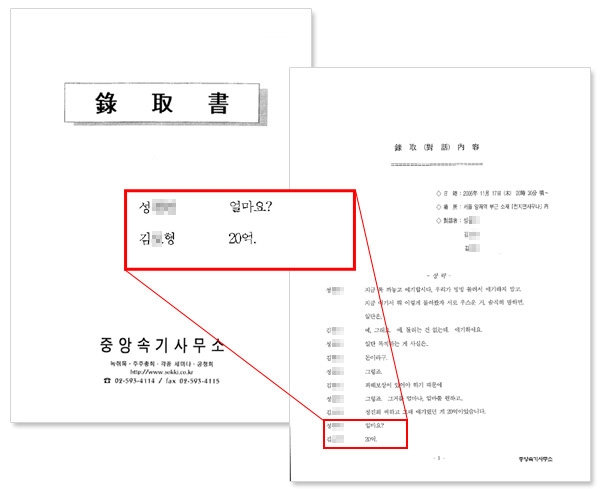 ▲The transcript of Mr.K demanding a 2 million USD settlement
Mr. K changed the settlement from 2 billion won to 140,000,000 Won (140,000 USD) after the confirmation of Chairman Jung's first extradition. Why did he change his mind?
A written and signed letter of apology about defaming Chairman Jung was sent to CGM by Mr. K (Nov 15, 1999), and further apology letters to Chairman Jung were also sent by Mr. K (March 17 and July 21 in 2005). However, afterward, he again demanded money. At this, Chairman Jung gave the following reply to Mr. K:
Even a lover becomes an enemy once he fights. As Jesus said, whoever it may be, once he fights, he becomes an enemy and his heart is in agony. It is hurtful and harmful.
You already acknowledged that I am not a bad person, but if you demand money again even after that, I can only grow deeper in my thoughts.
As you can tell from the chairman's reply, it is obvious that Mr. K has been persistent in asking for money.
However, after Chairman Jung's first extradition was decided, a couple of days later, Mr. K lowered the settlement from 2 billion Won to 140,000,000 Won. 140,000,000 Won is the cost of his legal fees for the trials. Mr. K also requested that Pastor P pay compensatory damages for his father according to CGM's conscience, but informed Pastor P that 10,000,000 Won (approximately 10,000 USD) or 20,000,000 Won (approximately 20,000 USD) would not be enough to cover the damages.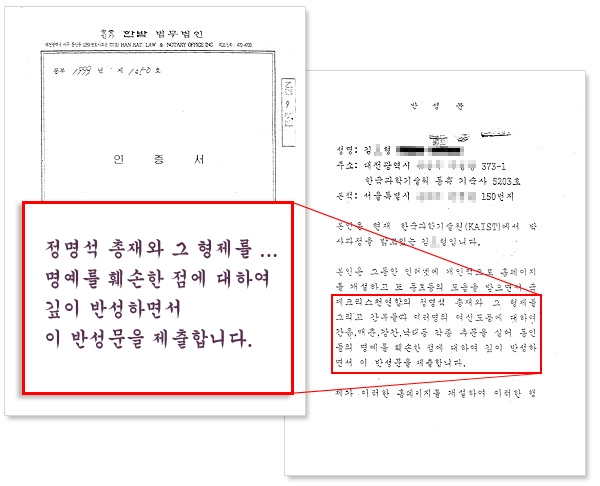 ▲The letter of apology from Mr. K to the Mission on November 15, 1999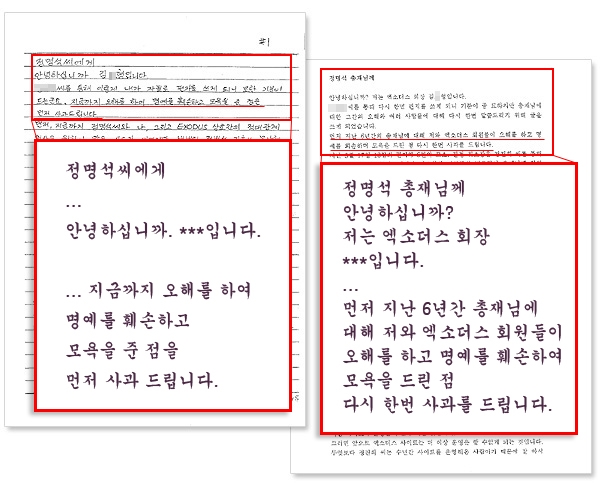 ▲Two letters of apology that Mr. K sent to Chairman Jung in 2005
(Left: the letter on March 17. Right: the letter on July 21.)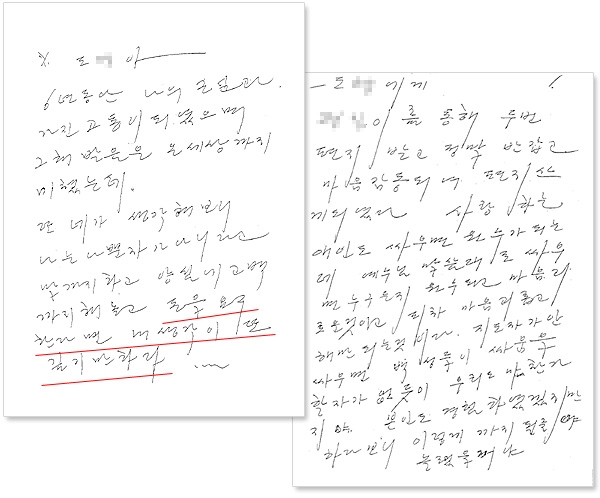 ▲The reply from Chairman Jung to Mr. K
When a rumor becomes vicious, it hurls invisible stones that cause tremendous damage
Mr. K is someone who has contributed in a big way, we could say, to last year's 10-year sentence of Chairman Jung Myung Seok. However, Mr. K was unable to receive even one penny from CGM. The reason being the chairman made sure with CGM "to not handle this case with money." What it means is that "truth should be proven with truth" and at the same time, it tells us that there is nothing for him to settle in this case. If CGM were to have paid the 2 billion Won settlement that Mr. K had demanded when he was trying to entice them with the written order to drop the charges, Chairman Jung would not have needed to face the trial or receive the 10-year sentence. Chairman Jung and CGM, who already knew the truth, were sure of an acquittal, but the result of the trial was so different from what they had thought.

"Child molestation allegations" were tacked onto Michael Jackson while he was alive, but after his death, Jordan Chandler, who had accused Michael Jackson of molestation at that time, finally confessed, "My father was bribed and forced me to do it because of the money," and Michael Jackson was finally cleared of the egregious, false charge.
Actually, the truth is not what's important to abettors and to those who listen to rumors and spread them. All they are after is entertainment in their mundane lives. These vicious rumors are accepted as facts, and through the fast streaming of this internet and information era, they lead to a grotesque public opinion. In the end, the public opinion turns into gigantic stones that are hurled. Then innocent people get hit, collapse, and even die from them.
Even though the court had sentenced Chairman Jung to 10 years, it is not conclusive that all the rumors are true. In other words, the guilty verdict doesn't necessarily mean that Chairman Jung is actually guilty. In addition, it doesn't end just yet. As long as those who know the truth do not give up and continue to be courageous, ultimately, the truth will be brought to light, prevailing over the darkness.
Currently, in order to live a life that puts Jesus only as their first priority, according to Chairman Jung's teaching, CGM members are holding Holy Spirit Movements on Fridays through internet broadcasting for 400 churches in Korea and for 50 foreign countries. One member said, "The essence of our faith is Jesus of the Bible. I believe that the egregiousness in the case involving Chairman Jung, who helps us to know Jesus clearly, will absolutely be revealed."
There is a Japanese movie, I Just Didn't Do It. It is based on a true story about a man who was falsely accused as a molester in a subway (a man who molests or sexually harasses a woman) and was called to trial; it clearly showed the problems of Japanese criminal trials. With the final line of the movie, I will wrap up the series, The truth concealed behind the 10 year sentence of Jung Myung Seok, Chairman of Christian Gospel Mission (JMS):

Please, in the way you would wish to be judged, I hope you will judge me.
[Part 1] The truth concealed behind the 10-year sentence of Jung Myung Seok, Chairman of Christian Gospel Mission (JMS)
(Part One: Falsified News Report by S Broadcasting System)
[Part 2] The truth concealed behind the 10-year sentence of Jung Myung Seok, Chairman of Christian Gospel Mission (JMS)
(Part 2: Ms. Y falsely claimed herself to be a victim of sexual assault by Chairman Jung, but confessed the truth in court.)
Original article : http://www.newsdaily.kr/news/articleView.html?idxno=29733