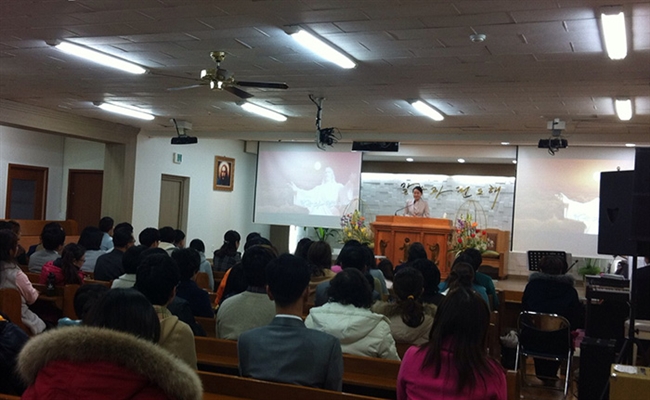 ▲ Pastor Yu Soo-yeon delivering the message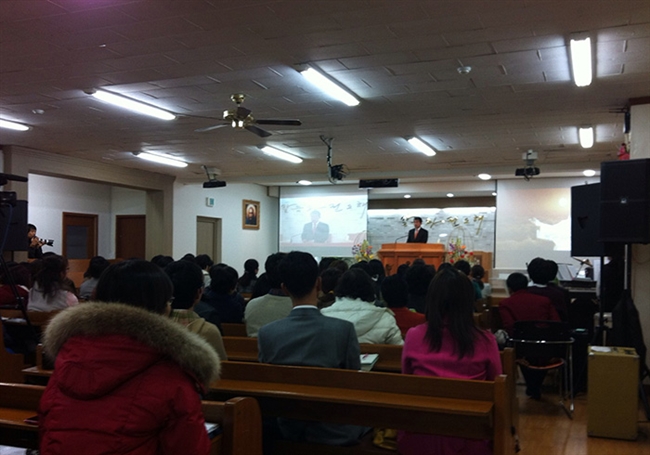 ▲ Pastor Jung Bum-seok delivering the message

The Athletic Association Tour with Pastor Jung Bum-seok took place on Feb. 7, 2013 at the Lord's Joy Church in Soon-Cheon. For this tour, the Eastern Jeon-Nam region, which is comprised of Soon-Cheon, Yuh-Soo, Goo-Rae, Eastern Gwang-Yang, Go-Heung and Bo-Sung, gathered. Pastor Yu Soo-yeon delivered a preparatory message before Pastor Jung Bum-seok delivered one.


Pastor Yu Soo-yeon delivered a deep message about finding talented people through these tour sessions and spreading out the Will and the direction of the Heavens through those people. She said, "I didn't have much interest in sports, thinking that they were only for men. However, when I went to Wolmyeongdong to pray, I got a chance to listen to Pastor Bum-seok's message regarding soccer. As I was praying, a fiery inspiration sprung up within me and I realized how important this assembly would be."

Following her, Pastor Bum-seok delivered a message regarding the benefits of [living in] this time period and regarding sincerity. He said, "The benefits of [living in] this time period is so great. Do you think I would have been able to come here if I lived during the era of the Three Kingdoms? I can come here within three hours because of the present I live in. In the same way, even though this generation may be blessed with greater benefits, if we do not use nor receive those benefits fully, we will be left behind and will not be able to catch up. Also, we should not just have fun and fall as part of this generation. It is to look at the flow of the generation. The flow of history of this era has been changed." He stated that we should look at the flow and follow it in order to receive the benefit of this generation.

Also, he said, "Let us be truthful. Let us reflect upon ourselves to see whether we have responded sincerely to the Lord's love or not. We have to take a look at ourselves to check to see whether we have really lived by the Lord's Word." He pointed out our contradictions: preaching of love within the church but not showing love outside of the church, our hypocritic and formal love, loving the Lord and brothers two-faced. He emphasized that we must fix these contradictions.


The way the people reacted to this Eastern Jeon-Nam tour was surprisingly hot. All of the members held their breaths, focused and responded to the Word. In agreement with the message Pastor Bum-seok has delivered, I pray that the Eastern Jeon-Nam region would shine the light of sincere love towards the Lord and towards our brothers as they catch onto the flow of this generation.