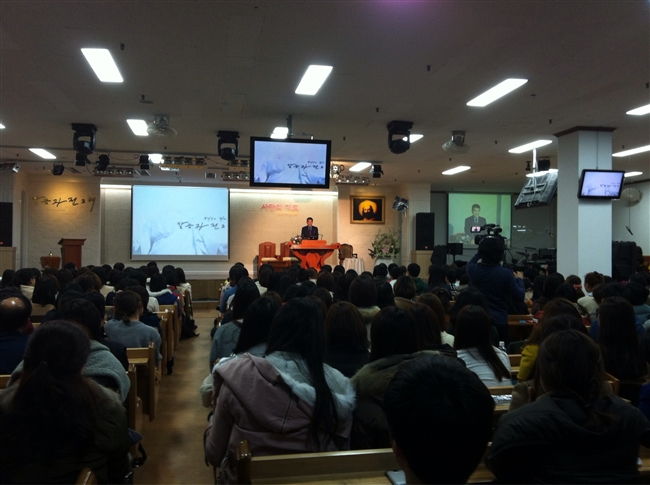 There was the Athletic Association Tour with Pastor Jung Bum Seok at the Daejeon Light of Life church on Thursday, February 14th, 2013.
In this tour Pastor Bum Seok Jung told us, "We have to look at the movements. While reading the Bible, we have to carefully look how Jesus moved. The Teacher's life was a life of testifying for Jesus. When people around him asked, how can you take a crazy person, feed him and provide a place where he can sleep, the Teacher said, "I did not do it, the Lord did it." In the same way, we must remove ourselves so that only the Lord will remain. Then evangelism will go well." As he told us this story of Pastor Jung Myeong Seok, he told us we also have to have this kind of attitude of faith. He also emphasized even more that we have to change so we can live the life of the Lord.
He also said, soccer has all the joys, sorrows and grief of the Providence history. He told a story of Providence history that while they played soccer from early morning 5 A.M. to 10 P.M., they evangelized and, managed lives, and fulfilled God's history. He said, therefore, we have to look at soccer not just as sports but look at it as faith.
Pastor Jung Bum Seok delivered that Pastor Jung Myeong Seok teachin them many things while playing soccer, and especially saying, "Do not run around, gathered together but stay in your position." Pastor Bum Seok delivered the message that in the same way, we have to keep our own position well
This touring message was fun and full of energy. Members who were listening to the Word did not know time was passing by so quickly and they were reluctant to part with it when the Word was about to conclude. Through this Athletic Association Tour, we wish that you run for Providence history with a mind that is even more like a steel.
You can visit Pastor Jung Bum Seok's blog to see the Teacher's' story he especially shared at Daejeon Light of Life Church.
☞Pastor Jung Bum Seok's blog: http://blog.god21.net/korus668/115666