Resurrection Weekend in West Coast USA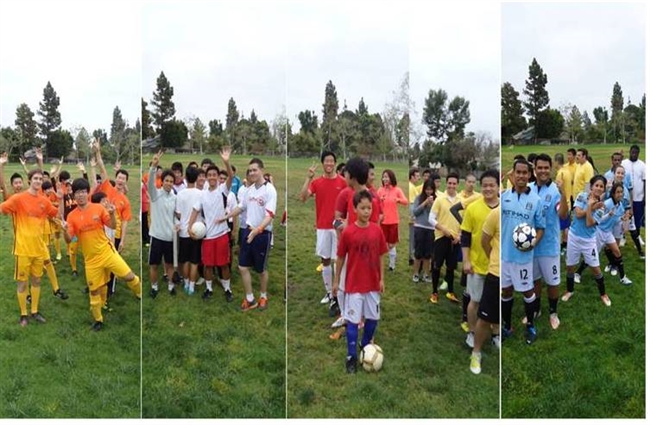 The Teams
From left to right, New Hope (Los Angeles, California), Bethel (Los Angeles, California), The Rock Church (San Francisco, California), San Diego Jewel Church (California), and Eagle Church (Houston, Texas)


2013, In the year of resurrection, this year's Easter is a truly historical day. In America, the celebration of the Easter and resurrection was held in a majestic way: A soccer tournament in which people from different regions of the American west coast gathered was held in Los Angeles, California, on Saturday, April 13, 2013. The "AP 7 on 7 Soccer Tournament". Members and newcomers from Los Angeles, San Diego, San Francisco, Arizona, and Texas gathered together to give glory to the Trinity through playing soccer.
Eight teams from different churches or regions were competing for the first place but after a very passionate and competitive game, San Francisco took the trophy home!
San Francisco was a very special team. They had great players and a great defense, but most importantly, they played together, communicating constantly, encouraging each other at all times. Especially when they were starting a play or after finishing one, they would root: "Lord, Fighting!" which gave strength to each other and promoted unity within the different teams, for as they rooted, members from other teams cheered together with them.
As newcomers partook in this event, they were greatly moved by the love and unity within the members. One newcomer from Texas actually testified saying, "I have never seen a place like this, where there is so much love for God, and where people share like a big family."
The event was followed by a time of fellowship, in which members from the family department of different churches in California provided a delicious barbeque, and it concluded with an award ceremony.