Anything that moves is art.
Playing soccer or jogging is ultimately all action that gives glory to God.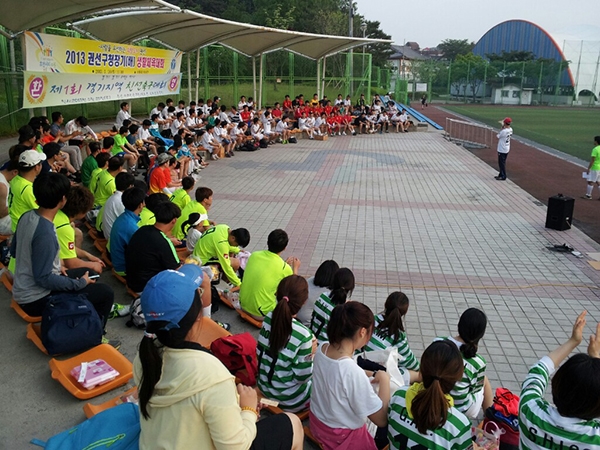 On July 25, at Yeogi Mountain Sports Park and also at a neighboring sports field in Suwon, the first friendly soccer tournament of 'art' and 'praise' was held in Kyunggi region.


The tournament was held by the Providence soccer association. 12 soccer teams and some cheer teams participated in the event together with some leaders from the Kyunggi region. Therefore, this event was a meaningful event that the whole of the Kyunggi region participated in: the eastern side, central side and western side of the region participated in.
The opening ceremony began with a greeting message from the president of the soccer association of the Suwon region and a congratulatory message from the community leader of Suwon.


This tournament proceeded according to the differentiated regulations from Providence soccer association based on The Teacher's message related with soccer. The regulation is that a yellow card is given for any offensive comments made to another other team or one's own team member, even if it is only a slight cuss word. A yellow card is also given if, during the game, one player falls down because of another but the latter does not offer the first help. Indeed, this tournament was a game played not only for the sake of winning but, rather, it was a soccer tournament of peace and love, for harmony and for mutual encouragement.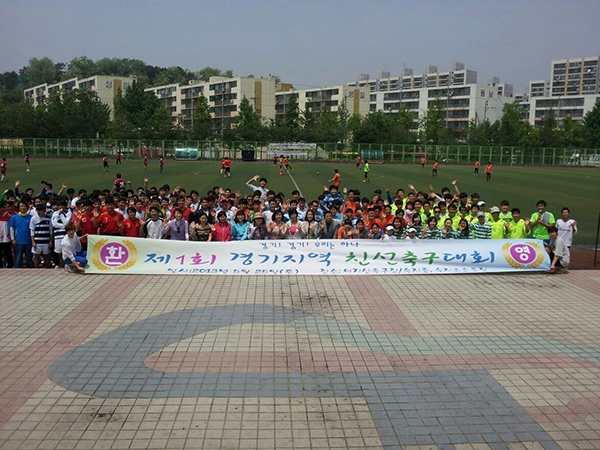 ▲ The group of soccer players that participated in the game

Despite many games being played, about five games per team, the event finished without even one little injury. This event was a history of grace, like a miracle that they experienced through their whole bodies, of the Holy Trinity being with them. Songtan won the main league and Ahnsan won second place. Suwon Glory soccer club won the consolation match and, in spite of the score, Pyungtak and Suwon Youngtong church (which had the most newcomers participate in the game) each received an award of life.


The executive secretary of Suwon soccer association expressed that he thought that the Kyunggi soccer tournament was a tournament held together with the Holy Trinity and The Teacher and a tournament of love and peace. The tournament wrapped up with a closing ceremony, which everyone participated in, in order to again give glory and thanksgiving to Heaven and it ended with a promise to meet again in the fall.