'From the beginning to the end, the Teacher coached [us].'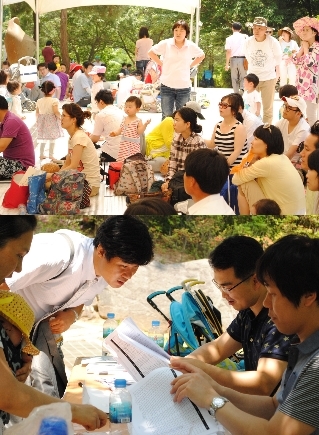 On Saturday, May 25th, the weather was hot and the temperature was over the average 28 degrees (82.4 F) throughout the whole nation. On this day, at the Wolmyeongdong (WMD) Culture Center, the service for the 7th blessed family department for the 4th wedding anniversary was held.


This event was even more meaningful because the Teacher particularly coached the entire program from the beginning to the end. The 7th [blessed family] central executive office began the live prayer assembly on the 19th for this event and had a live conditional prayer at 11A.M. every day from the 21st to 23rd of May.


During the interview, Pastor Kim, Young Suk from the central executive office said, "While we were preparing the event, the Teacher suddenly gave us the direction. So there was difficulty in publicizing it. So through the four live prayer assemblies, we tried hard to gain the 7th blessed family department's interest."

The event started exactly at 11 A.M. so that the 7th blessed family department could go back home early.. The program began with P Jung, Keum Hyun presiding, then P. Lee Hae Jo's and lecturer Joo, Da Keum's message followed by P Jung, Bum Seok's education message, and so on. Even by just looking through the program, we could feel the love of Heaven. Also for this event, the Teacher did not permit any other events in WMD to be held and only allowed this event.

Not only did the event programs gave grace but also there were no inconveniences because the members from the 7th [blessed family] central executive office gathered to pray for the event since the early dawn and took care of people who attended the event.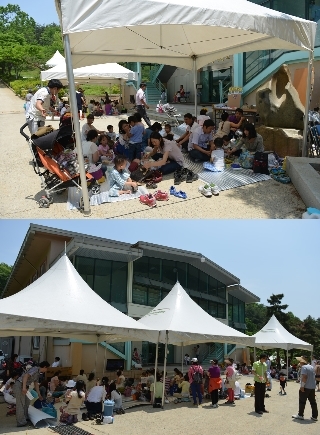 For smooth run for the program, only the families with children under 24 months were allowed to enter the culture center. The other families listened to the message outside, around the culture center.

They put up tents for the people who listened to the message outside and allowed the people to be able to listen live to all of the events going on inside of the culture center through TVs and outdoor speakers. In addition, they set up playing ground for children so that they wouldn't get bored.

Pastor Jung, Keum Hyun, who has led the 7th blessed family department since April 25th, spoke words of request to the 7th blessed family department, "I hope they continue to meet the Lord always throughout their daily life because the Lord really cherishes the 7th blessed family department so much."