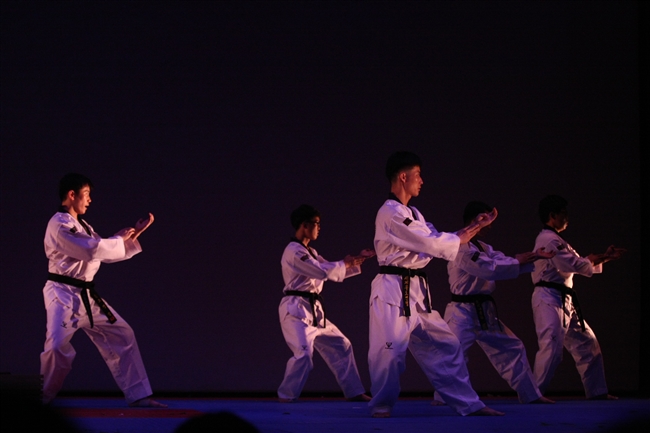 On the 21st of July in Seoul Naru Arts Center there was a beautiful martial arts performance under the title, 'Martial Arts Meets Art.' During the event, that went for about an hour and a half, various characteristics and special qualities contained in martial arts combined well with Korean elements such as Korea's strength, Korea's songs, and others.

It was a performance that showed diverse kinds of martial arts and dance -beautiful female dancers, traditional Korean music, taekwondo, taekyeon, kung fu, Hae Dong fencing and judo- can harmonize together and showed that the mentality and action can become one.

Throughout the performance, with sorrowful music that touched everyone's heart, the martial art performers gave glory to God, who created martial arts and art, with each movement of their hands, feet, and body.

All of the 113 martial arts performers prepared for five months for this event, and those who practice diverse individuality showed themselves becoming one through being considerate and displaying love. Ultimately, they showed the fundamental mentality of peace and love of martial arts.

Some audience members who watched the performance even had tears in their eyes from the deep, moving feeling that the performers conveyed and the audience gave glory to God for creating powerful martial arts as they gave a warm round of applause.

The performance was very meaningful and deep because it surpassed the level of a simple sports activity; the martial arts enabled the audience to feel that it is the mentality of the nation. Also, it was meaningful and deep in that it showed that many genres -taekwondo, judo, fencing, Korean dance, Korean traditional dance and others- can harmonize together. Lastly, it was a performance that allowed the audience to feel that the fundamental mentality of martial arts of wanting to fulfill peace and love in all mankind is connected to God's love toward mankind.