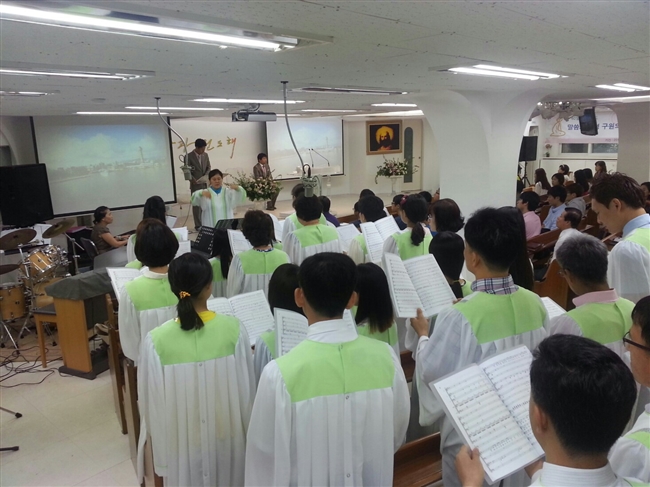 With the sound of the boat horn, a video of Japan's Hataka Port appeared on a huge screen. Together with the video, the choir began to sing 'The Port of Solitude.' The choir's praise, together with the video, was not only a beautiful sight but, also, it was of a high caliber having about 30 elite choir members who came from all departments, from the Milky Way department to JS department.


It was as if we were watching a story from an inspirational music video. While listening to the praise and thinking of the Lord, a representative of the Blessed Family department shed tears. I am sure the whole congregation was moved by the same inspiration that he was (moved by).


As well as prayer and Word, the choir praise is important. However, it wasn't long ago that Suwon Glory Church (Head Leader Jung Su-mahn) only had five to six choir members and often used [the choir praise] as the congregational songs.


As the importance of this crisis rose, together with awareness of this crisis [of having a weak choir], the head leader and the leaders made with emergency procedures. They made an action plan in order to organize the choir, strengthened the organization of the choir through activities ran by elders and the secretary team, and made a system for a praise program in which members can practice at home at regular times by using their smartphones. Through these measures, the choir came to be as majestic as it is today.


The choirmaster of Glory Church, Kim Eun-mi, who is working hard, offered the following words: "We are thankful that we can give glory through choir praise together with the video. The body has to be healthy in order for both the spirit and soul to be healthy. Likewise, we wanted to give glory in a great way but we were unable to improve due to a lack of skill and practice. So we found a method that suits us- in order to fix the parts that were lacking, we practiced after Sunday and Wednesday services and practiced by using a program in which each of us can use our smartphones. We also appointed leaders for each part and practiced to save time and get the notes correct. Also, we received more strength because [God] sent us a new accompanist just in time. As we became more confident, even the practice meetings filled with joy. When the Middle and High School department and Milky Way department joined, sounds that were lacking were fixed and we feel that the Holy Son Lord and the Teacher are with us even more."


Together with Suwon Glory Church, I am praying that they will become a church that can give even greater glory, as is fitting to their name.