The opening of the art exhibition that helps those in their youth find their paths: 'Finding the Path'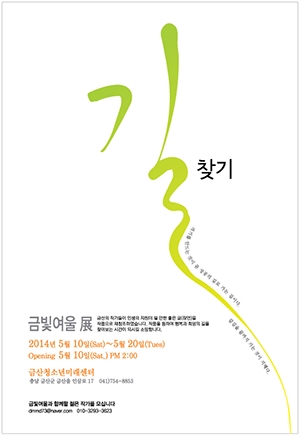 Arrangement, Host : Geumbit Yeo-wul (Golden Rapids)
Title: Finding the Path
Date: 2014.05.10 (Sat) - 2014.05.20
Location: Keumsan Youth Future Center
"Hope is before you. Just as if you were digging up and discovering what is buried in the ground, as much as you put in effort and take action like digging, you will come to see the 'form of hope.' Do not fulfill your hope slowly or hurriedly. Fulfill your hope at the right pace, together with the flow of time and according to the time period."
The Keumsan artists, who view art from various different perspectives--such as a sculpting perspective, a Western painting perspective, an Eastern painting perspective, or an illustration perspective--gather together and recreate Pastor Jung Myeong-Seok's proverbs, which are worth instructions for life, into art works.
The exhibit entitled 'Finding a Path' is being opened and hosted by Geumbit Yeo-wul at Keumsan Youth Future Center from the 10th to the 20th of this month. 'Finding a Path' is designed with the purpose of giving people time to answer the question, "Are you looking for a path? Do you want to change your path of life--which is like a sloping path, a thorny path, or a cliff-side path--to a happy path, a path of flowers, or a path of hope?"
In other words, they opened this exhibition with a heart of hoping that people would have the time to find the path of happiness and hope through the works of art.
In this exhibition, 12 artists, who are active in their various fields, are exhibiting their work, including: artist Kim Kyeong-seok, who is presenting his sculpture, which has the theme, 'Even though a talent may be given, one's competence depends on one's effort'; artist Kim Jin-yeong, who is presenting a delicate art work that portrays the path of life through the work of metal; calligraphy artist Hong Gil-un, who has recreated handwriting that is alive by breathing life into the letters; and artist Cho Ha-rim, who delivers a simple but strong message through a video in the exhibition.
We hope that by viewing the exhibition 'Finding the Path' in the month of May--the month of family--people will, with love and hearts of understanding, find the path that will maintain their lives of happiness and have a month of family that is full of freshness and cheer.