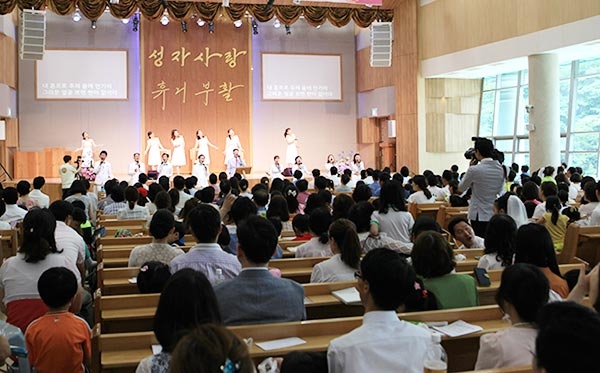 The 11th anniversary of the fifth blessed family department blessing ceremony was celebrated in Wolmyeongdong, the Natural Temple, on July 5th. In order to show the Lord their love and appreciation on their 11th anniversary, the fifth blessed family department--who have been setting fire individually according to the Lord's special revelation, 'Let individuals do well'--offered a service of thanksgiving and glory in the Holy Son's House of Love.
The art festival of thanksgiving started with a fiery cheer dance performance by the national female representatives, and it was followed by a beautiful, majestic performance by the Cheonan Milkyway baton department. The parents from Gyeongnam region and the second generation children expressed the Lord's Word, which is like a quadrillion pieces of gold, through songs and dances.
Next in the program was a time for reflection on the blessing ceremony that took place 11 years ago. We became reminiscent, thinking of Pastor Jung Myeong-seok, whom we long to see. In the video of that day, June 8, 2003, Pastor Jung Myeong-seok personally led the blessing ceremony of the fifth blessed family department even though it was a time of busy and exhausting overseas missions. He confessed to us, "Even though I am far away, I miss and love you very much." When he was singing the song, 'Never Changing Heart,' we were overwhelmed by nostalgic feelings reminding us of that time.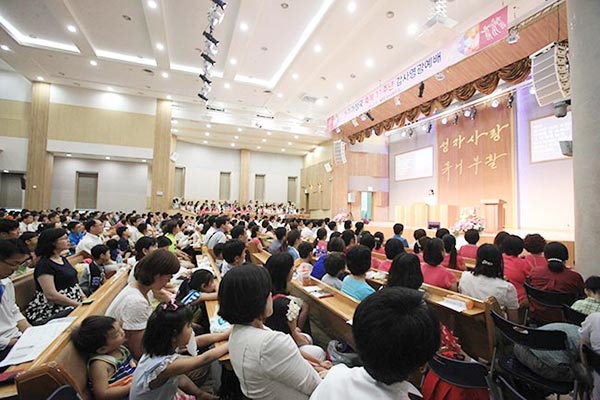 After the service, there was a time to receive education from several lecturers who had been personally sent by Pastor Jung Myeong-seok. Through lecturer Kim Hyung-soon, the Holy Son Lord again told us that what He wanted the most from the fifth blessed family department was [for them to achieve] the 300-line Rapture, which is achieved through true love. He comforted all those who toil and work hard for their spouse and children, and He encouraged them to not feel disheartened but to overcome everything while holding His hand.
He also said, "There is no leap in Heaven's history. It is only natural to struggle while raising the second generation of the blessed families. Everything is a part of the process. Even though it is hard, let's not give up. If you raise your children according to the methods of Heaven, they will become extremely majestic, beautiful masterpieces."
Meanwhile, the Holy Son Lord encouraged us by means of a detailed message through the lecturer Lee Hyun-jeong to grab the Holy Son and fix our fundamental character. Head leader Lee Jin-hwa relayed the stories that Pastor Jung Myeong-seok had told her with detailed coaching.
A fiery time of prayer was led by head leader Kim Cheol-woong. It was followed by a presentation on the Providence Family Service Center, a website that provides service-related videos for promoting family services, an introduction to the Clean Internet pan-national movement, a ceremony for the establishment of the evangelism team of the fifth blessed family department for the 70,000 mission, and a Golden Bell Quiz of proverbs for the second generation children.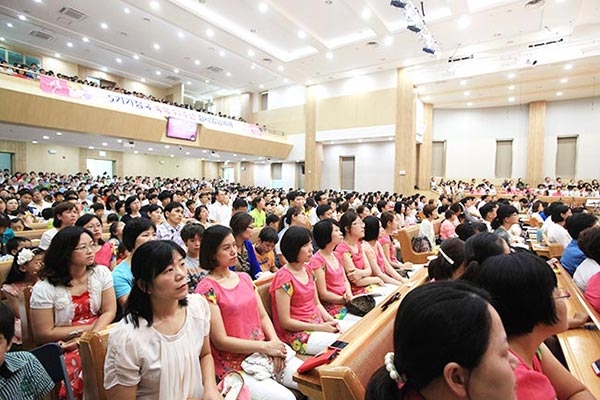 The parents and their children, most of whom are now in elementary school, hiked together to Geuk-gi peak while reading proverbs. On the way, they looked at a pine tree that was managed by Pastor Jung Myeong-seok. Before he managed it, the tree had not been able to grow because it had been wrapped in arrowroot and gooseberry vines. He said, "A good tree represents a good person," and he wanted everyone to see that pine tree. It was a precious time of realizing the Word realistically.
The 5th blessed family department gave thanks to God, Who blessed them by sending them clouds that provided shade all day long. They promised themselves that they would become more united with the Lord as the family department, fix their contradictions and constitutions, and make sure to achieve the 300-line Rapture.