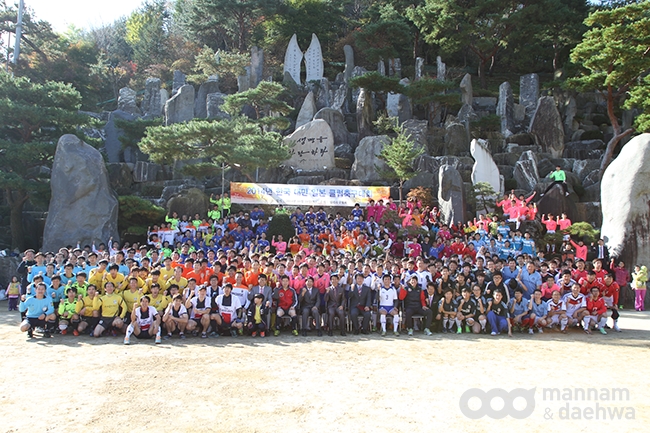 ▲ With the players after the tournament's opening ceremony

Starting with the Korea, Taiwan, Japan Club Soccer tournament on October 18th, the National Junior High and High School Boys Soccer Tournament opened on October 25th. This year's tournament featured 10 junior high school teams and [a number of] high school teams.--a total of 300 boys competed in 46 games. On November 1st, the National Blessed Family Soccer Tournament opened, and for three weeks, players competed at the Wolmyeongdong Sports Field or at the soccer fields in the Geumsan area.

Pastor Jung Myeong Seok--who is the founder of Peace Soccer--spoke at the opening ceremony and, [in doing so], clearly embedded the philosophy of peace soccer [in participants' minds.]

He opened by saying, "Give glory to God, who gave us this art, this art of [playing] soccer; we are playing soccer to create harmony and peace, so engrave this purpose into your heart." "Learn about life by playing soccer. You win when you do things peacefully. Whether it be an individual, nation, or the world, if they are not peaceful with each other, they lose."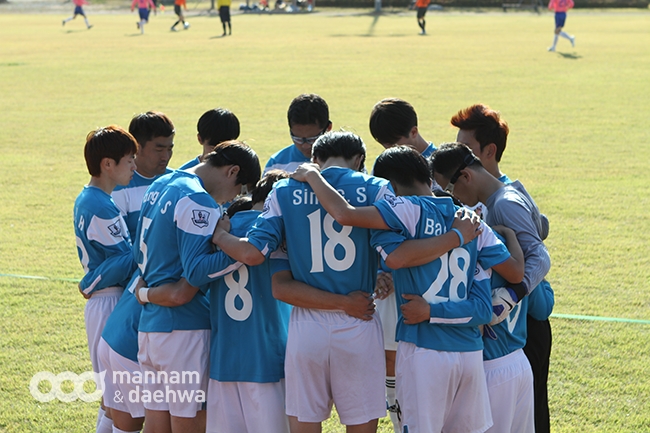 ▲ Players from Chang-won region pray before their game


On October 18th, the Club Soccer teams included 19 exemplary Korean teams nominated by each region of Korea, making a total of 21 teams when including the Taiwanese and Japanese teams. There were 350 players and 45 games. The teams were divided into two different divisions according to their levels. Having teams of similar levels play each other made the games were more exciting.

Sixteen teams participated in the National Blessed Family soccer tournament, a total of 250 players competed in the 37 games. A team from the Jeonbook region won the championship, and the Seoul Gangnam team won second place. The rain that had been falling until the morning of the tournament stopped [at the beginning], so the participants praised and gave glory to the Trinity for the outstanding weather.

The Blessed Family members who used to run with Pastor Jung Myeong Seok are middle aged. Recalling the times when they had run together on the Sports Field in the past, they had a great time reuniting with their brothers and sisters in faith after that long while .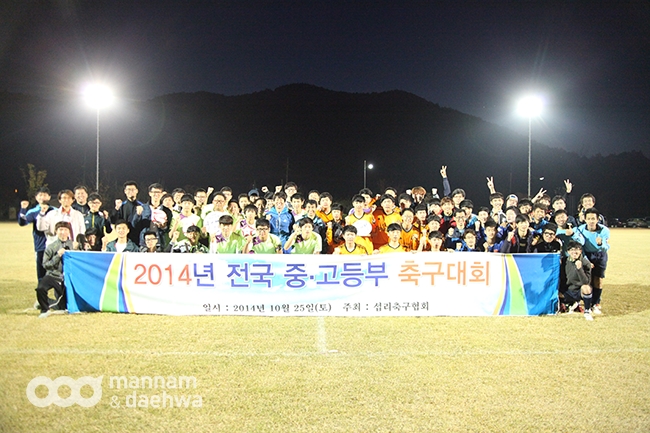 Unlike last year's games, this year's tournament ran for three weeks, and they had 38 referees running the tournament systematically and in an orderly way. Though 900 players competed in the 128 games, the games were safe and highly professional because of the increase in quality of the tournaments. Following the spirit of the founder, the tournament exhibited soccer of peace, unity, and love. It was a great Fall soccer tournament in which the spirit of the founder, who gives glory to the Trinity through soccer, appeared through his disciples.

I think that giving glory to the Trinity, who created soccer for us, by playing peaceful soccer rather than a game of going wildly after the soccer ball, players, and games, is the true spirit of playing soccer in this day and age.