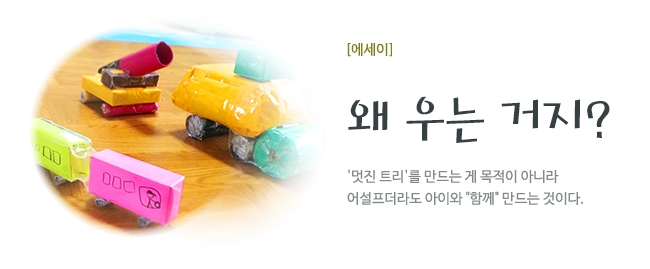 "Buy me the rolling car~ the thing that flattens the floor~"

I was going to buy him since he continuously whines about it even after couple of days. But there wasn't any car that was good when we went to buy it at a store. There was 30$ one but I didn't want to buy him that.
"Should I just make it?"
I spreaded out a scissor, glue, newspapers, 4 tissue boxes, tape, toothpaste boxes and a strawberry case. His eyes are sparkling with hope.

"I'll cut the tape! I want to glue it~"
While calming my son, bursting with so much desire, we made the car together.
I let him choose colors for the papers and we crumpled the newspapers and put them inside the box. When it was almost done, he started crying.

'Is he sleepy?'
'Is he annoyed because he wanted to play with it faster?'
I got annoyed since I don't know the reason.

My son who's playfully running around with the finished toy as if he never cried.
Although it's not a fancy and great looking car, it looks somewhat like a real car.
When I was looking at him, I became deep in thought. Why did he cry?
Coming to think of it, he cried when we made a tree before.
He cried, saying that it's not what it's supposed to be done and also because I put it on when he wanted to glue it on. I couldn't let him do it because it was a difficult job but at that time also, his cry was full with frustration.

I come to realize that I've been forgetting an important thing.
My purpose at that time wasn't to make a 'great looking tree', but rather to make our own tree "together" with him even if it might turn out weird.
But the more finished tree became, the more focused I was in the tree, having forgotten my child. This happened again in making this rolling-car. From the wrapping-up process, I was keep blocking his hands, saying "Hey Doyoon~ wait a minute".

I look back at myself. On everything I have asked to the Lord to do them with him.
'Lord wait a minute. After I do this.'
Am I not yelling out those phrases while doing such work?
Did I work only looking at the work, having forgotten the work?
I hurriedly call upon the Lord. Lord~! Let's do together~ together!!