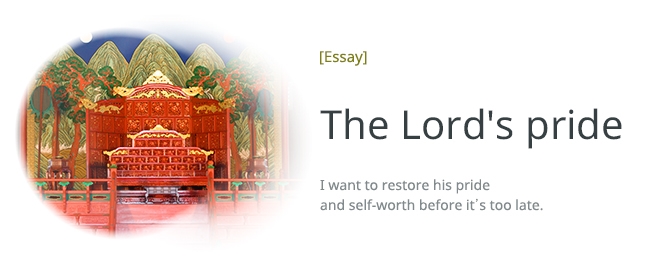 "Are you not putting your hands up as I told you?"
[My] eldest son reluctantly put his hands up on the wall.
[My] second child is lying on the floor and crying sorrowfully "Mom, Mom….".
Two minutes passed like this.
Lord: My love, please forgive Jooan [the eldest] and let him put his hands down. Though he is the eldest, he is only six years old, right?
Satan: What are you talking about! He doesn't seem to be sorry in any way, and how many times has he pushed his brother like that already? He will come to his senses only if you take this opportunity and scold him properly.
Me: This week's message is about forgiving..., but it was wrong for him to push his brother like that. How dangerous it is, he could bump his head into the wall! Jooan will not do it again only if I scold him harshly this time.
Satan: Tsk tsk tsk. Lord, look at that. Although you have given Word about forgiveness, Word that is as precious as gold, she is doing it according to her own will in the end! And she says that she believes in and follows you…., isn't that ridiculous!
Lord: It is you that is ridiculous Satan. Why don't you try to stay home all day with two little children. You would have both hands in the air, wanting to stop after a few hours. Do you even know how hard it is to raise children?
Satan: Sheesh... but Lord, look at that. The child seems as though he would die at anytime because his arms hurt so much but his mom doesn't even blink. What kind of deed is that coming from someone who needs to take action of the Lord's love but instead acts in such a cold way You know, it is no use you teaching with all your sweat and blood. Lord, I feel so bad for you.
The Lord: No, that is not right. You don't know her, do you? In the past, she would have grabbed a rod and spanked [the child] with a face and heart like yours. She has improved so much. She has become so gentle as she tries to take action of the word in difficult times.
Satan: Oh the Lord, you should only defend things that can actually be defended. I mean, you have been teaching her for years and she's still like that!? and think of all the conditions you've set for her! Through the beloved one, you did minimal eating, fasting and even 117 prayer... if we had received all those conditions, we would've turned into angels by now.
The Lord: You would not change even if there were conditions were set to it to the point when he becomes a grandfather. Nevertheless she is trying to discipline her child with a heart of wanting the child to become good. In her heart she is repenting and regretting not keeping the Word. She will soon transform and the situation will soon change. That is the difference between you and my beloved one.
Me: You should never push your little brother again, okay? Now put your hands down.
Jooan: Mom my hands are hurting... sob sob sob...
Me: Come here, let me give you a hug.
Satan: There's nothing for me to do since it's over for today. I will have to leave. But you know, I've noticed that things come up again as soon as I leave. Hahahahahaha
Lord: I believe my beloved. There will be a day when the times when you're called are fewer and the day will come when calling you will forever be forgotten.
Satan: We will only know at the end.
Lord: There has never been a day when I forsook my belief in my beloved. So I am 100% convicted.
When I finally forgave, I felt Satan leave my heart.
My anger disappeared.
Even when I had heard the Word about 'forgiveness', I could not stop myself from growing mad but exploded with anger at the end. I thought I would have been scolded by the Lord since I had not been able to abide by the Word…,
The Lord was always on my side, defending me, despite Satan's mocking.
I am sure that Satan hurt the Lord's heart even more than I did, with more mocking and contempt.
I can know how he feels and how the whole world is, even when I see only his actions.
My Lord: how big and strong are his pride and self-worth.
But he puts down all that pride and self-worth for us.
I think I can feel only a tiny bit of how hard that is to do as I raise my children.
I want to restore his pride and self-worth before it's too late.
"You're right. You all are my true pride and self-worth."