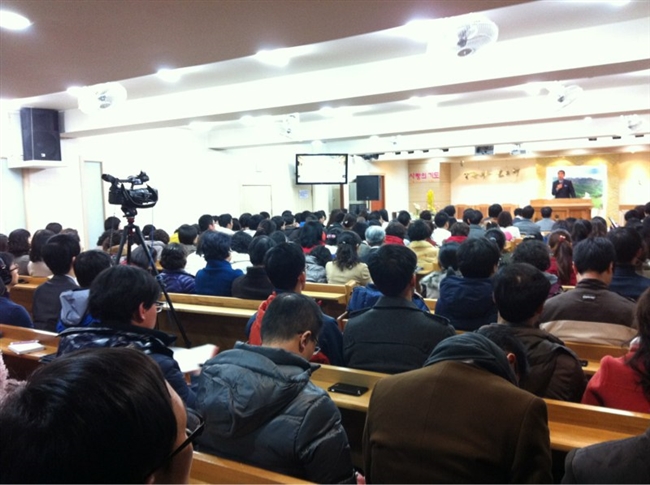 On February 19th, 2013, tThere was the Athletic Association Message in Changwon Bethel Church in which East and West Kyoungnam Changwon gathered. It was a precious time that presented guidelines so that we can shineing the light of faith and life.
Pastor Jung Bum Seok said, "The teacher said, 'I realized even jogging in the , mornings is giving glory to God.'" Pastor Jung Bum Seok started the message as he said, "'We exercise to make our body healthy but it is eventually giving glory to God. Through exercising, we can earn two things. Our body becomes healthy and we give glory to God;, we do one thing but it benefits in two ways."'
This time is the best time in which human beings have wanted and waited most dearly under the creation of the Earth . It is now the time of the Advent and Rapture.
He said as we live in such a time period, we have to live being a happy, and had us look back on ourselves who are unable to live a happy life .
He said, "To be happy, everything has to be happy in your heart. However, since your faith and life are not united, you become anxious even when you do all the tasks. For people who believe in God, they should have the belief that even if they are walk on the gloomy valley of death, they will not get hurt. Because you do not believe that God is with you, you are anxious and unhappy. We separate faith from our life; however, faith and life should not be separated but united.," He said so and showed us the way of faith that we must go.
He told us that in order to make faith and life become united and to live happily, we have to live our a life with obedience and thankfulness. Now, the Athletic Association Tour is coming to end. Through this tour and as we listen to the Word, we had a time of looking back on our faith and life and time of repentance. I hope that many people will attend the remaining tour and listen to the precious Word.