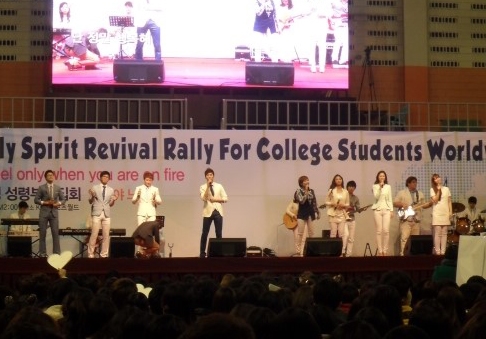 There is No Such Thing as a Vacation for Campus!

On February 19th, 2013 at 2PM, the entire world Campus department Holy Spirit

Today's assembly was joined by 1,000 national Providence Campus members and members of Waseda University in Japan with the theme "Worldwide College Student Holy Spirit Revival Assembly (You can feel when you become zealous)". This event, which takes place before every school year and begins with the start-of-class service and LTC, was introduced as a Holy Spirit assembly to fit this year's [theme] of 'the year of the Word and evangelism,' centered on ministry.

The event began with a crowd/mass performance that was similar to the 2012 Seoul Holy Spirit assembly. Following Campus's majestic yet popping and bouncy opening stage, members of Waseda University in Japan offered a special song and testimony. From Japan, even though not even 1% of the entire population is Christian, there were 30 Campus members from Waseda University.

They testified that after receiving the Teacher's coaching, their membership that remained at 30 people for two years became 50 members in only one year. The Teacher's letter said, "The mind has to be on fire. Those who move the world are those who have taken a hold of the world of the mind. Do it together with me." The member from Waseda turned the Teacher's letter into a special song and offered praise. Although their pronunciation was poor, the sight of [them] singing one measure after another with shimjeong moved [everyone's] heart.


The testimony was followed by a preparatory message given by Pastor Moon Sung-Chun, the Campus representative advising pastor. He delivered a fiery preparatory message in which he said, "Those who say God is dead are people whose hearts have died. Atheists say that God is an illusion that weak people have made up, but we have met the Lord through our teacher." Following that, he introduced Pastor Jo Eun so that she could deliver the main message.


Even amidst all of the work that continued to pile up, Pastor Jo-Eun prepared for today's assembly while praying all night. After she shouted powerfully, "Hallelujah," as she stood at the pulpit, she said that she would not deliver the knowledge of the world but God's Word since this is a world of faith. Then she started to deliver the Word that burned like fire to the Campus.

According to the Word, [Pastor Jo Eun] said that in Acts Chapter 1 a secret method for receiving God and the Lord is to 'acknowledge.' [She] proclaimed that just as what is loosed on earth will be loosed in Heaven, God's history and salvation will be fulfilled when individuals first acknowledge and approve of them. She spoke about mental and spiritual problems, problems of life that every human being encounters and how they are resolved through the Bible. She also said that just as there is no one who is born believing from their mother's womb, individuals themselves have to choose to follow even if it is the right path because only the path is set.

Looking at [Acts Chanpter 2], [Pastor Jo Eun] said that the Bible, which is written in parables, has to be interpreted/ unraveled in order for us to understand God and discover His Will. She delivered the key Word of the time period about parables saying that [parables] should not be interpreted only partially but that everything, as a whole, has to be interpreted. She said, "Truth is when theory and reality come together, and when [things] occur according to that word." In addition, she said that [people] need to find the truth when they are young, and they need to discover the one who speaks the truth and thus discover the Holy Son. Also, she blessed that [they] would become people in the world who will overturn the world by taking action according to the Word and concluded the message.

Even though Pastor Jo Eun was not in a good condition, she clearly delivered the fiery Word for about two hours for the newcomers and Campus members. It became a precious time when [people] received the Holy Sprit of truth. Afterwards, [people] made determinations as they praised in unison. The whole event ended as they shouted a slogan, earnestly wishing all of the campuses in the world to wake up.

Through today's Campus Holy Spirit assembly, newcomers and many Campus members from around the world had time to properly learn the truth even more and set the truth with certainty in their hearts. In the future, we expect that the Campus department and everyone in Providence will preach the key Word of the time period and shine their light even more with pride in God's history.