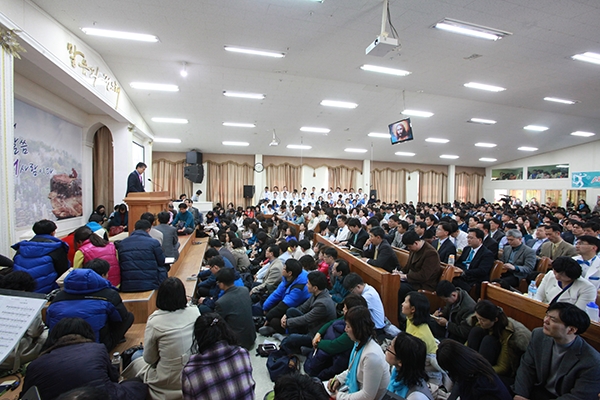 Today was a nice day. The cold weather started to break out and the frozen snow began to melt. On this Saturday, February 23rd, there was new Word education and a prayer meeting with the title of "New Time Period, New Word, and New Person" for the senior blessed family department in the Wolmyeongdong Cultural Center. More than 800 blessed family department members gathered in Wolmyeongdong, and showed the majesty/ the display was majestic. There were even people who sat around the Cultural Center to listen to the Word because there were no more seats.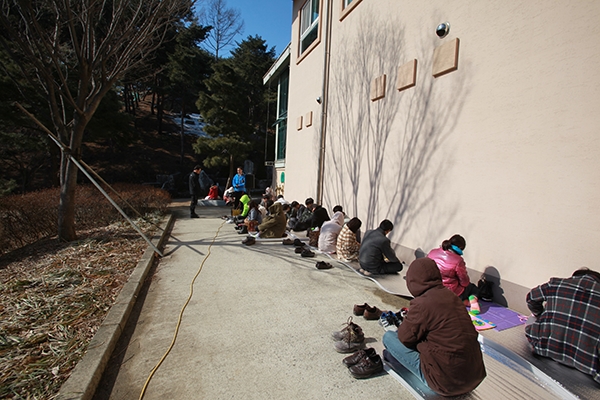 ▲ Members sitting around the Cultural Center and listening to the Word due to lack of seats in Wolmeongdong Cultural Center
Pastor Jung, BumSeok delivered with a deep shimjung the message that the Teacher delivered on behalf of him.
Pastor BumSeock said, "In the world, there may be many teachers who only teach with words, but there are not a lot who give inspirations. Only when you take action in your life can you inspire people. I received a lot of inspirations from seeing the Teacher taking action. There was never a case when the Teacher just taught the Word without taking action." As he said this, Pastor BumSeok enlightened us about the Teacher's life of how he showed [things] through taking actions and said that we should also live in the same way.
Furthermore, he said, "You must not do it forcefully; rather, do it with thanksgiving. You mustn't try to receive salvation superficially out of formality. In order to not live superficially and out of formality, you must sacrifice yourself for the sake of love. Just like a father must sacrifice himself in order for the family to be in harmony, we must sacrifice ourselves even if the head leaders do wrong. Unless we live like that, we will be bystanders forever. We must humble ourselves just like how the Holy Son Lord has done for us. We must not live like people whose necks are stiffened. Every one of you must do well, then junior members will see and learn." Pastor BumSeok gave us a valuable message that enlightened us one by one to look back to see if we have lead our life of faith superficially and out of formality.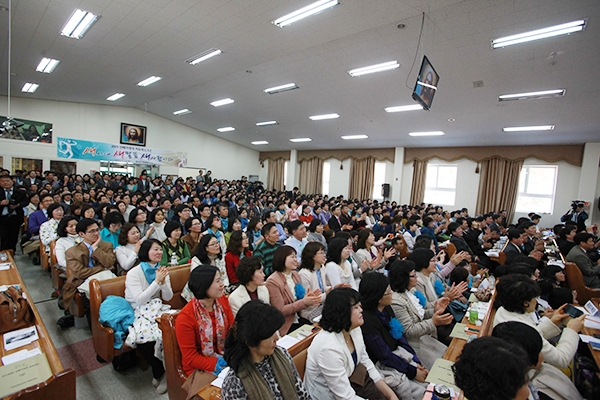 Through today's senior blessed family department message, the blessed family department should become the department of finding their first love, becoming fiery in our hearts, loving the Holy Son Lord and brothers and sisters, bearing lives, changing, and rapturing.