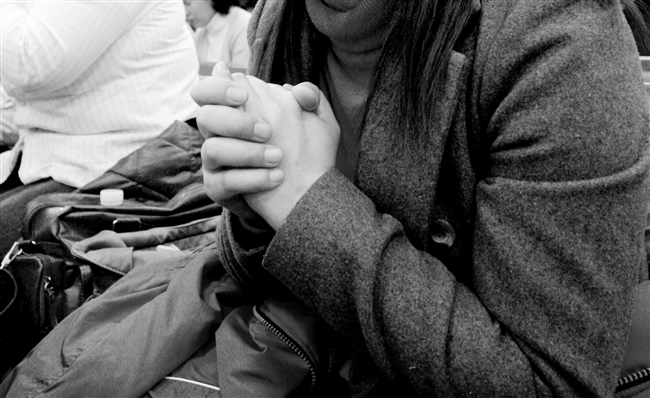 On April 13th, one day before the significant first Easter Service, between spring flower blossom, there was blessed family 5th, 7th's prayer meeting with passionate and deep simjung. It was pretty chilly until the day before but the day of event, with warm spring weather, people could feel the Lord's love and warm spring.
This invitational assembly was going to be conducted in the Women's Prayer, followed by the Prayer of the men that were in progress as part of the project was in the middle of last month,[Let's Rapture husbands] but, this event was progressed with the participation of some men because of the word of the speaker Jeong Hyeongbok was very deep and profound
Members of 5th and 7th blessed families got together, and Geumsan members started praising so they raised passionate love to the Lord. Also, there was beginning message from pastor Jag Jungim with theme, 'Raise level and realizing Advent Rapture History of the Holy Son's original entity and Bunche.' She emphasized, "Listening to word and knowing it is physical and soul level and realizing is spiritual level. the time of progress of spiritual rapture, we have to realize clearly and know for sure about the Bunch not with knowledge level but with spiritual level."
After that, guest speakek Jeong Hyeongbok's calm but deep word feast was followed. He delivered the word only who watched beside the teacher, so we could feel the deep, deep love for the disiples and simjung: the wave of simjung flowed into our hearts thus it was time we could meet the Lord embracing us with passionate love.
As a masterpiece comes from a great artist, a masterpiece was made through the word and a touch of teacher. In addition, the teacher promised to fulfill 70000 mission to the Lord;this time has become to decide 5th and 7th blessed family would do it together.
Prayer meeting followed with pledging that we would live resurrected faith with repentance that we could not served the Holy Son Lord, leading by 5th central women president Kim Sunkyoung followed by flaw of simjung.
The 5th head-leader pastor Lee Jinwha recommended, "to commemorate the 10th anniversary of the 5th, 100 days of prayer project is in progress. Now is when you must be awake and pray. In addition, now when you need to evangelize and May is month of evangelism. Let's deligently evangelize 2 people in one family. When family department turn upside down, providence will turn upside down." and finished invitational assembly.