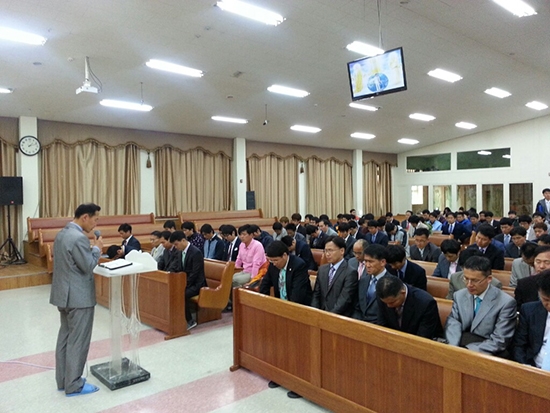 Kogu 20th, usually rains and it supposed to fatten all kinds of crops, meaningful event was held in Wolmyeongdong Cultural Center in white snow covered everywhere.

To carry on the Holy Son Lord's mentality and aiming to raise male leaders, providence soccer association general meeting it is.

There were presentations of succesful soccer mission examples from Daeku and Busan and future soccer association plans for operation message was delivered by Pastor Jung Bumseok.

There is no one who can give beautiful harmonious scenery of snow and flower in mid April as a gift: God was showing big blessing to soccer association. 90 minutes message was about our teacher, soccer and role of male leaders, it gave so much grace and inspiration to 130 soccer leaders.

Especially national elder representatives came together and delivered contribution. They promised many support and attention. One regional leader who was worrying about how to set direction, wanted to say thankfulness like this, 'Especially it was good time for small regions.'


Now providence soccer association officially launched, we send a lot of expectation and encouragement.