The moonlight of the Harvest Moon Festival upon Wolmyeongdong, an abundant Chuseok
In Korea, one of the biggest holidays of the year is Chuseok, the Harvest Moon Festival. This year, Chuseok in Wolmyeongdong was especially abundant and crowded with many people. As Pastor Jung Myeong Seok said in the Sunday message, he provided for those who do not have a hometown or family so that they could have a comfortable time of rest in Wolmyeongdong.
For this reason, from the day before Chuseok, Wolmyeongdong was busy preparing for guests. The foreign members enjoyed their time of experiencing Korean culture as they fried Korean pancakes and made songpyeons. On the day of Chuseok, about 800 people came from around Korea to visit Wolmyeongdong. Including those who visited from overseas, it was more than 1000 people that came to Wolmyeongdong.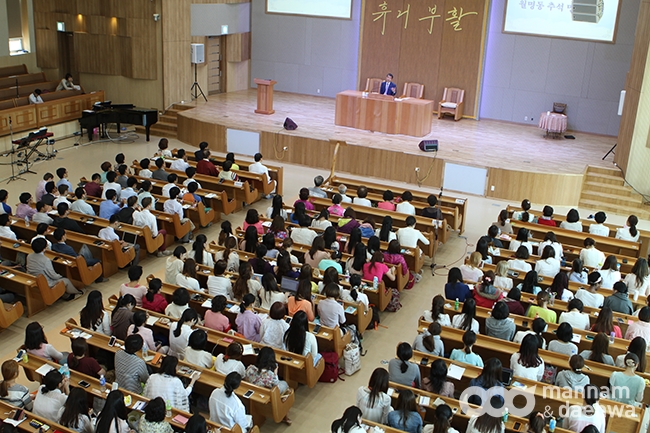 ▲ Offering Chuseok service in the Holy Son's House of Love
The Chuseok celebration service was held in the Holy Son's House of Love from 8:30 a.m. on Monday the 8th. Pastor Jung Beom Seok spoke about Pastor Jung Myeong Seok's life and teachings, in which he said that wherever you are with the Holy Trinity it is heaven and he encouraged us to be good to God. Also, Pastor Jung Myeong Seok's message delivered by Pastor Ju Haeng-bok moved many people to tears.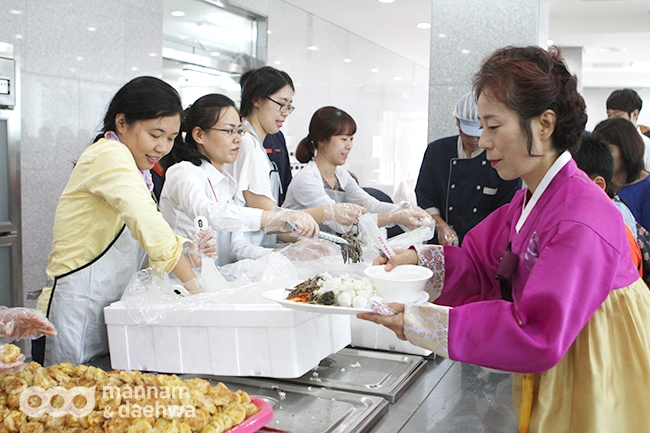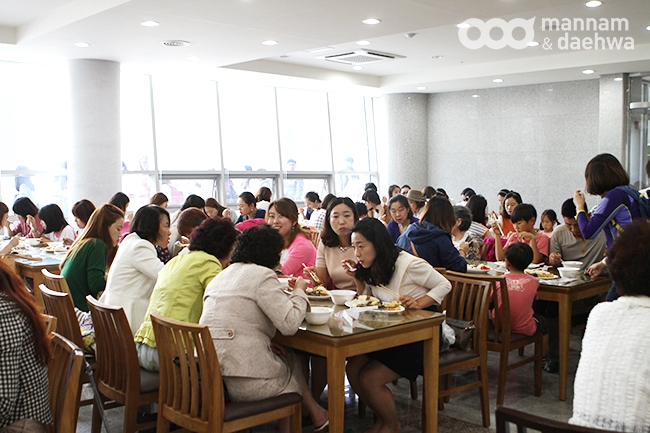 After the service, people ate the food for Chuseok prepared by Pastor Jung Myeong Seok and [the workers in] Wolmyeongdong, and enjoyed a Chuseok that was more abundant and joyous than ever.
The highlight of the Harvest Moon Festival, of course, is viewing the moon. Wolmyeongdong, that was once called the 'Bright Moon Valley' for its view of the bright moon, was definitely true to its name. The weather remained clear until the night, and a big and round supermoon rose high in the sky.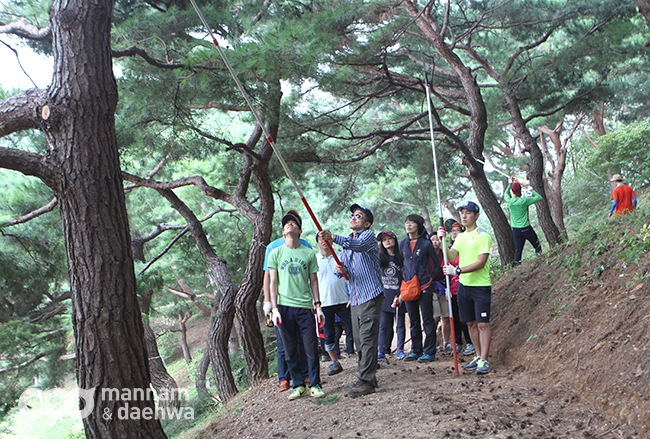 ▲ As Pastor Jung Beom Seok did pruning work with the foreign members, he shared with them the stories of Wolmyeongdong.

Pastor Jung Beom Seok went up to Palbong with the foreign members, and explained the stories related to the Holy Son that reside in every corner of Wolmyeongdong. Everyone was amazed by the moonlight that was so bright that they didn't need to turn on their flashlights on their way up. As people praised God and gave glory to Him late into the night, through singing songs in their own languages, they no longer felt lonely for not being in their hometown. Although their languages and skin colors were different, everyone's face lightened up with a bright smile like the moon.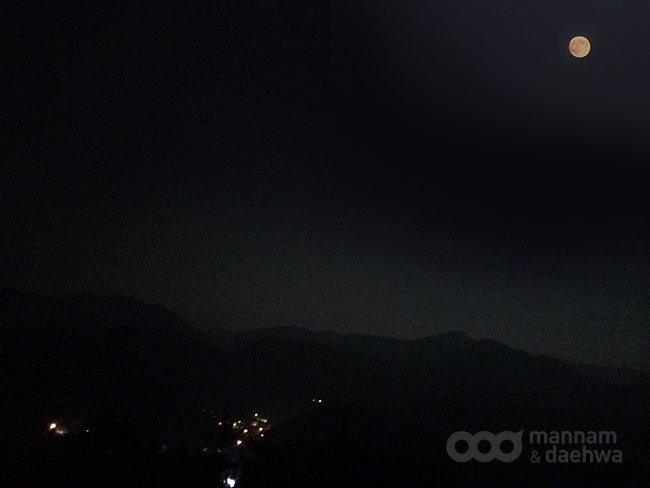 ▲ Photo of the moon and Wolmyeongdong taken from Palbong
Just like Pastor Jung Myeong Seok's message, "Don't feel disheartened even if you don't have your parents with you," the moonlight that shone on the warm Wolmyeongdong, a haven for those who are lonely, became the Holy Trinity's light of love and allowed the Chuseok of love and peace end beautifully.