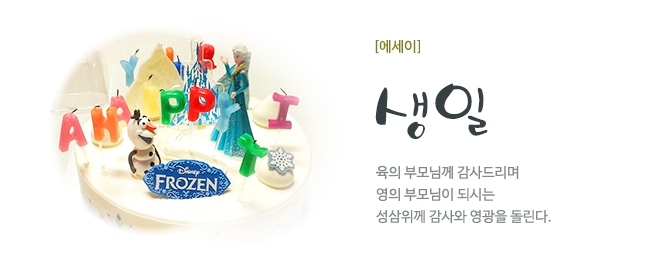 It is already my 42nd birthday. The thought of my parents, who gave birth to me, is the first thought to come to mind, now that I am old. I feel so sorry for not repaying their hard, difficult efforts in giving birth to and raising me.
Mom has a playful personality and she has spent her entire life going through tough times, living with Dad who spends money recklessly. There is nothing normal about her body now, since she has worked every kind of work as she raised four children. And the wish of that kind of mother is for her children to prosper and live well. Although she expected me to turn out to become somebody, since she had me study a lot, the disappointment that I brought upon my parents could be likened to the weight of a hundred 1.5 ton trucks.
I live 20 minutes away from my mom.
Mom calls on me often and brings all kinds of things like kimchi, rice cakes, fish, and children's clothes. My younger sister's refusal of Mom's side dishes has already been a long time past, because the portions are too big for her family, and my other sister is living abroad so she cannot take the food. Although my brother and his wife live in the same house as my mom, they have no time to eat since they're too busy. So all of the food and everything else have become to me. I, who does the least for my mom, is living while receiving the most from her.
I feel so sorry whenever she brings me things. Now that I am old, I cannot just take things from her. I believe that there will be a day when I can give her the thing that she likes most--money.
Mom, I am sorry that I was not hired to work for the government. I am sorry for not marrying the man that you' hoped for--a government employee. I am sorry to worry you for not owning a house. Forgive me. But Mom, Dad, I thank you for staying alive up until now.
I could not even call my mom today. Now that she is old, she cannot really remember when her daughters' birthdays are. God has given me such a mother and has taken care of me through her, giving me all sorts of things like kimchi and dried persimmons. I give thanks and glory to the parents of my spiritual body before [I give thanks and glory to] the parents of my physical body. Whenever I talk about God to her, she says bad words. I pray that God will forgive my mother who is like this. That is the best thing I can do for her as her daughter. There may be many people who do not think so, but I clearly know how much of a sin it is to say bad words about God.
There are many people who live thinking that doing so is not a sin. But someone who knows is praying to God to forgive such people while setting conditions and repenting on behalf of them. That is how the Earth is able to go on and exist.
This one special birthday that happens only once a year, the other 364 days are days that are not my birthday. In 'Alice in Wonderland', they decided that the 365 days are happy unbirthdays and celebrate all year long. Now I will live everyday in a special way and celebrate my unbirthdays from tomorrow. But as for today, happy birthday to me!!